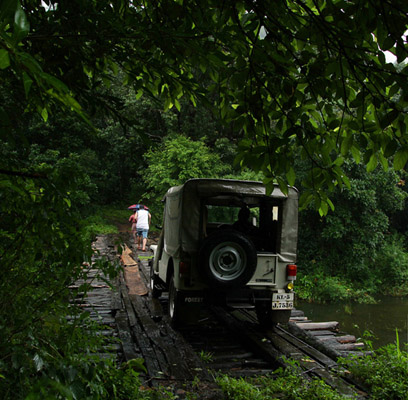 Package 1

—Gavi Deep Jungle Safari Full day-from Thekkady (200KM) via Angamoozhi .
Sighting on The Programme : https://gaviecotourism.org/home/photo-video-gallery/
Its a deep jungle safari to gavi forest , we exploring 100 km inside the forest , tourist can enjoy the wildness of the jungle in a short distance , for this programme tourist can expect animal sighting .
Day trip: 6.00am to 4pm. Total 200 km , 70km Jeep safari inside the jungle .this programme include only safari . food and entrance extra.On the way lucky  one can see wild animals in a short distance .. With in 4KM surroundings of Thekkady ,Pick Up and Drop Free .
 Minimum cost : Rs.10250 (up to 5 persons),Rs.2500/person up to six people in a Jeep .
---
Package 2

– Jungle Border Safari-Sathram forest (Rs-3000 for six people) Short safari–3 hrs

This is a short term safari , covers border of the gavi sathram forest and hills . Lucky one can see wild animals . Rs-3000 for a jeep maximum 6 people can go. Programme will available from  6am to 4pm. , Guest can select  convenient timings between  6am to 4pm.
Package 3—

From Thekkady 
Gavi Jungle Jeep Safari (30KM ) short safari via Vandiperiyar
Welcome to Gavi Eco-TourismThis is one of the most popular programmes in Thekkady. The jeep safari toGavi, picturesque land, is the major off-the-track destination ideal for a wilderness retreat replete with trekking, birding, canoeing and facilities for boarding. This biological garden, with hills and valleys, tropical forests, sprawling grass lands, sholas, cascading waterfalls and cardamom plantation, is home for many endangered species like lion tailed macaque; nilgiri tahrs etc. Trekking through forest under trained Guide after break fast.Return by 12.30,have south Indian Vegetarian lunch and thereafter boating in GaviLake(row boat),visit cardamom plantations and curing house,Sabarimala view point..Return after evening tea by 3.30 PM.
Minimum two people need to operate this programme, programme start from thekkady
Programme include :Ecotourism programme+ food+ Transportation
Day trip: 5.30am to 3.30 pm. 36 km drive through jungle 3 kms trekking 1 ½ hour pedal boat. Breakfast and lunch is included
Minimum cost : Rs.8500 (two persons),Rs.2500/person up to six people in a Jeep .
Note : forest entrance is not included .(Rs.50 for Indians and Rs.500 for foreigners. )
Morning
The day starts with plantation visit under trained guide to fully enjoy the natural beauty of Gavi.
Noon
12.30: Return from plantation visit for a sumptuous south Indian vegetarian lunch. The first half of the day is balanced with a relaxing row boat ride after lunch. Then proceed for a visit to the cardamom plantation and inhale aromatic whiffs of cardamom and then to the curing house. Sabarimala viewpoint is the next spot in the itinerary, the scenic beauty spot to capture the panoramic view of the Sabarimala hills and the pilgrim spot. Later proceed to the Museum where the skeletons of the animals are preserved.
Evening
Return to the registration spot after a day full of enjoyable sightseeing. Indulge yourself for to a refreshing tea break before dispersing at 3.30 pm.
Note : forest entrance and food not included .(forest entrance Rs.50 for Indians and Rs.500 for foreigners. )
Ensure the confirmation through Email.